Note: This article contains affiliate links, which means I receive compensation if you purchase a product through them. Regardless, I only recommend products or services I use personally and/or believe will add value to my readers. Visit my disclosure page for more information.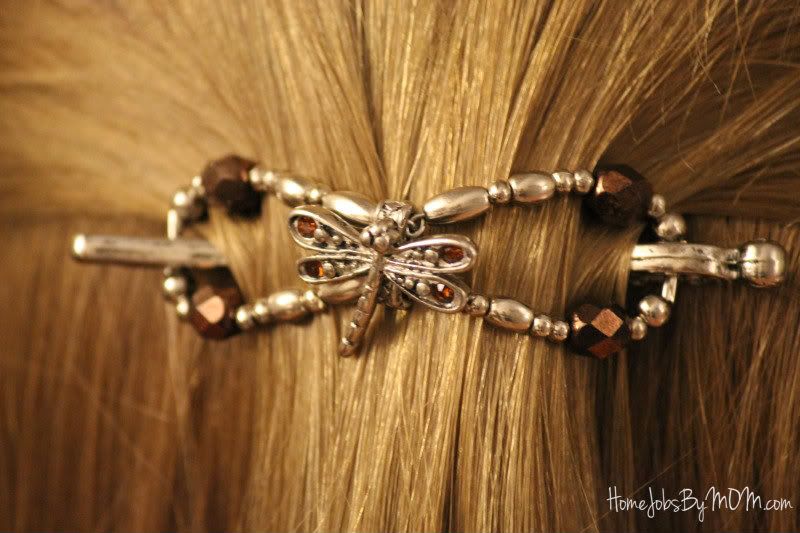 I am the type of woman that does not do my hair very often at all. I spend the majority of my time at home or running errands so there is no point in breaking out the hairdryer and curling iron everyday. Not using those things a whole lot has made my hair a lot healthier than it would be otherwise (so hairdressers say). They always ask me what I do to my hair to keep it so healthy and I just laugh and say nothing.
However, if I do something to my hair I usually put it half up and maybe attempt to curl it some. I was recently given the opportunity to check out an adorable Lilla Rose Flexi Clip. This clip is way more attractive (being metal and embellished) than the standard plastic claw clip and it fits snug against your head. You can actually lay flat on the back of your head without it digging into your scalp. I never could do that with any other clip. It's great for those times you are on your back making your kids "fly" with your feet.
To put your hair half up with the Lilla Rose Flexi Hair Clip first pull your hair into the half up position.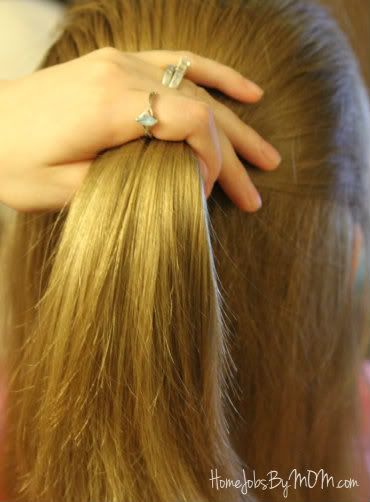 Then place the pony tail between the clip with the pin section of the clip going underneath the pony tail.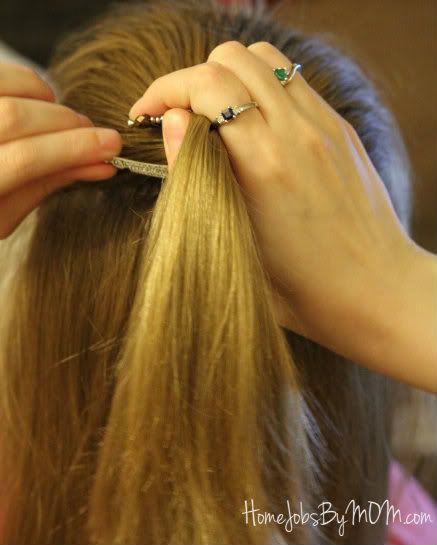 While holding the pony tail and the clip in one hand use your other hand to bend the beaded loop of the Flexi Clip over the pin to secure it.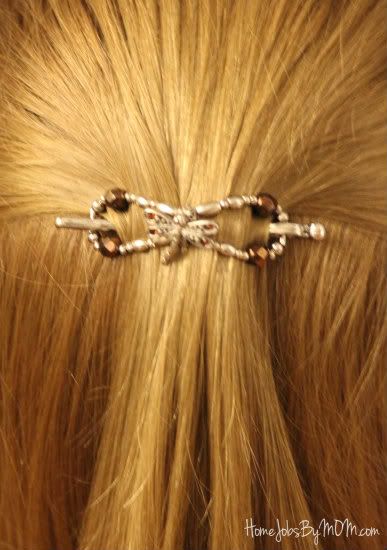 And tada your done! Doesn't my hair look great? The only thing I would suggest is that you make sure you have enough hair in the clip otherwise after time it starts to slide down. This probably has more to do with user error and my fine hair than the clip. I may need to adjust the notches or use the smaller Mini Flexi (I lost a ton of hair after having each of my kids). I personally think the clip is darling and I love that is simple yet decorative. Do you "do" your hair everyday? How do you style it?
To learn more about the Lilla Rose Flexi Hair Clip or to become a Lilla Rose Independent Consultant (no annual/monthly dues, no inventory to store , & affordable to start) please visit Forget the Claw.
Holly Noble has been extremely generous and is offering my readers a gift certificate for a free Lilla Rose item up to a $16 dollar value. Please view the Flexi Clip sizing video so you know the best size to ask for if you do win.
a Rafflecopter giveaway

I was given this product to facilitate a review. However, all thoughts and opinions are completely honest and my own. Sponsored by Independent Lilla Rose Consultant Holly Noble.