Note: This article contains affiliate links, which means I receive compensation if you purchase a product through them. Regardless, I only recommend products or services I use personally and/or believe will add value to my readers. Visit my disclosure page for more information. 
Now that you know how to make a cornhole board set you may want to snazz them up by painting them. For this example, I have chosen to paint mine University of Kentucky Blue and White with the UK block letter logo on the playing surface. I am also adding all of the years that Kentucky has won the college basketball national championship.  Along one long side I am putting "KENTUCKY", on the other long side "WILDCATS", and along the bottom edge "NO 1 GR8TR".
Creating the Stencils
First I created a stencil for the Block UK (very similar to how I created the Mario Room Stencils). I found a picture on the Internet that I liked.

 

I printed it out and decided that doubling the dimensions of the logo would be just about the right size for my cornhole board set.

 

I measured each area and drew the dimensions that I needed on to a piece of poster board.

Next I created a stencil for the numbers for the years. I found a picture of block numbers on the Internet.

I printed them out and decided that the numbers were the right size for my board. I then created the numbers on my poster board.

The last stencils I needed were for all of the letters along the sides and bottom of the board.

 

The sides are all 4 inches so I decided to make the letters on the side 3" tall and 2 ½ " wide.

 

In order to do this I created a grid with lines every ¼" and drew the block letters on the poster board accordingly.
Painting
First I painted the playing surface and the sides of the cornhole board with white latex paint.

After the paint dried I started taping up the board. I started with a 2" painters tape around the edge of the playing surface. I also placed painters tape on the sides and bottom of the boards and put enough tape for the logo and years to go on the playing surface.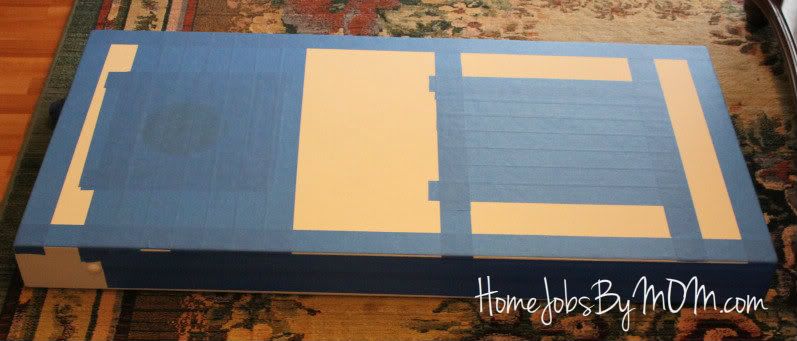 Next I took each of the stencils and drew them on the painters tape (just like I did with the Mario Room Mural). Using a razor knife I cut around the areas I just drew on the board. Then I peeled off all of the tape leaving only the areas that I wanted to be white.  

I then painted the entire board blue. After the blue paint dried I peeled off the rest of the tape leaving behind the white areas and my cornhole board design.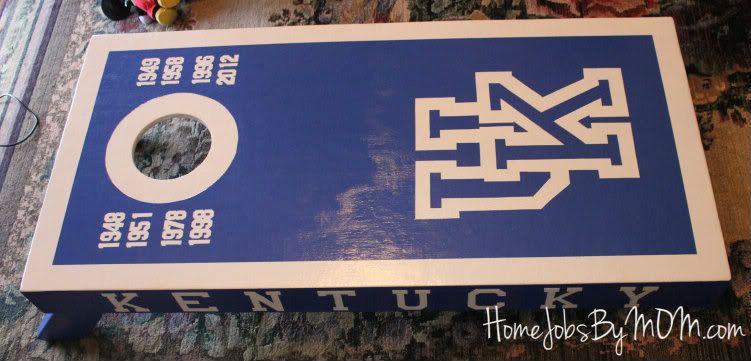 You can use this principle to decorate your cornhole board set however you like (below is a couple other cornhole boards I have made). What is your favorite sport? Favorite team?