Note: This article contains affiliate links, which means I receive compensation if you purchase a product through them. Regardless, I only recommend products or services I use personally and/or believe will add value to my readers. Visit my disclosure page for more information.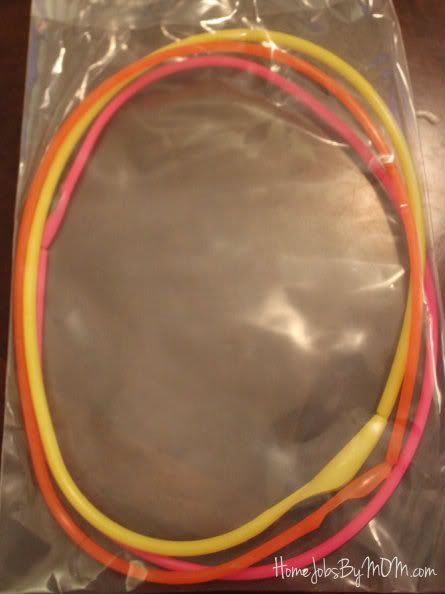 I am the only female in a house full of boys (unless you count my two cats). Being around boys all of the time I've gotten used to bugs, bad aiming in the bathroom, and a lot of sports. With a lot of sports come a lot of sport shorts and pants. Usually these type of shorts/pants come with a drawstring closure. Not to mention my husband lives in these when he is not in his work clothes so I am in drawstring city most of the time. Have you ever had a drawstring get loose and come out? It is nearly impossible to replace it. Something flimsy like a drawstring can't be shoved back into those holes. It just can't happen. Enter the Ezstringer.
The EZstringer makes it possible to restring drawstrings. Yay! Now I don't have to just ignore the missing drawstring or take the lazy way out and just get rid of the shorts/pants/jackets.
1. Hold the drawstring over the EZstringer and pull it into the grabscoop.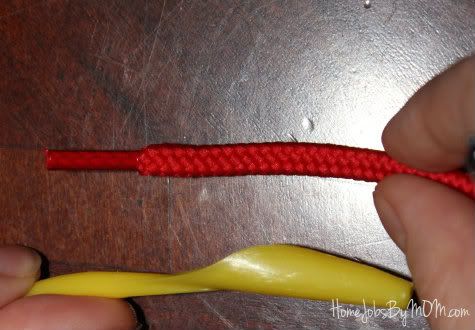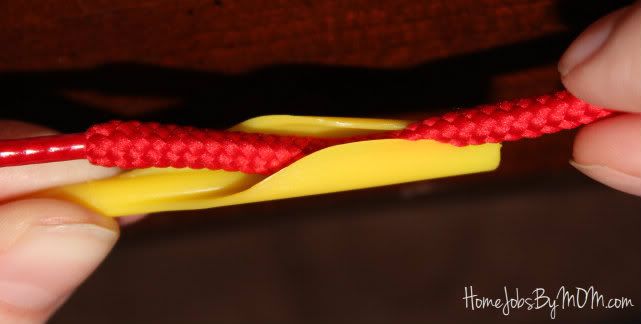 2. Pull the drawstring till you can't pull it any further.
3. Insert the opposite end of the EZstringer into one of the drawstring holes and feed it until it comes out the other hole. Be careful not to pull the EZstringer too hard or the drawstring will pop out of the EZstringer. I had to feed my drawstring through a couple of times because I was having a macho attack apparently. Just feed it through gently and you will be golden.
The EZstringer allowed me restring a pair of my husband's sport shorts in less than a minute and it really was quite easy once I got the hang of using it. This product will save me a bundle since now I don't have to buy new pairs of shorts/pants/jackets just because the drawstring came out. Now I can just restring them myself with the EZstringer. It is also nice that there are three different sizes of the EZstringer so I can also restring smaller items like my two year old's clothing. I can so see him just yanking the strings out for fun. What do you do with drawstrings that come out of clothing? Do you try to restring them yourself?
To learn more about this product or to buy a 12 pack of replacement drawstrings for $9.98 please visit our sponsor at www.ezstringer.com or on Facebook.
The nice folks at EZstringer have given me an extra set to giveaway to you. Lucky you! An entry into this giveaway gives you a chance to win a small, medium, and large EZstringer and 5 drawstrings of various colors. This giveaway is taking place on Facebook because Home Jobs by MOM does not offer liking a Facebook Page as an extra entry into their giveaways due the research I have done on their promotion rules.
Who Can Enter: Anyone 18 years old or older that lives in the 50 United States
Timing: Starts June 4, 2012 and ends June 14, 2012 at 12:01am
To enter this giveaway
CLICK HERE
To get as many entries as possible follow all of the instructions on the Rafflecopter widget. Happy entering!
You may also like my: Freebie Stockpile, Other Sites with Giveaway Linkys, The Giveaway Rollcall, and Sponsored Giveaways.
I received one or more of the products mentioned above for free using Tomoson.com. Regardless, I only recommend products or services I use personally and believe will be good for my readers.