Disclosure: This shop has been compensated by Collective Bias, Inc. and its advertiser. All opinions are mine alone. #nothinglikeahug #CollectiveBias
No matter what time of year it is there is always room for more organization. For the most part, I try to stay organized and I succeed for the most part. Everything pretty much has its place. Now that place itself might not be what you called organized. Take plastic grocery bags for example. Do they have a home? YES! However, their home consists of getting shoved into a small cabinet in the kitchen. It's not the most organized, tidy space ever. This Baby Wipe Container To Grocery Bag Dispenser Tutorial fixes that!
It is a perfect way to organize those bazillion grocery bags you have shoved into every nook and cranny. This container is stylish enough for the kitchen counter, the pantry, or even the car.
Baby Wipe Container To Grocery Bag Dispenser Tutorial
Hover the image below to stock up on more baby wipe containers!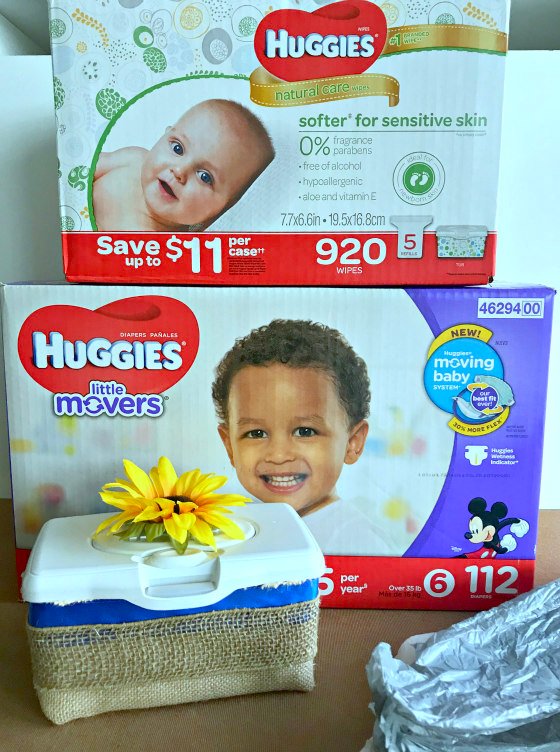 Baby Wipe Container To Grocery Bag Dispenser Materials
Ribbon/Fabric Spools
Scizzors
Hot Glue Gun
Decorative Embellishments
Spray Paint
If you have an infant or a young child you're probably overflowing with empty wipe containers. It's a good thing too because you need them.
A LOT of them.
That's why I absolutely adore Sam's Club. Not only do they give me the things I love in the quantities I need, they offer Scan and Go. With their Scan & Go app, you don't have to wait in long lines to check out, you simply scan items with your phone as you're shopping. From there you can complete your purchase and show the receipt as your leaving the club. It is something I wish every store had!
It's the holidays and right now you can enjoy instant savings on Huggies diapers, pants, and wipes.
Buy any 1 Huggies product at Sam's Club and get $4 in Instant Savings. Valid 12/1 – 12/25.
To save even more you can get an additional $4 savings through Ibotta when you buy Huggies at Sam's Club. Bonus!
How To Make A Grocery Bag Dispenser From A Baby Wipe Container
To get started, grab one of those empty baby wipe containers you have hanging around and make sure it's clean. Using a hot glue gun and your favorite ribbons or fabric, glue strips around the entire container in layers. I used blue because it is my favorite color and two different kinds of burlap because I love a rustic feel. It just makes me feel homey!
Next, carefully take off the lid to the baby wipe container. Spray paint it with your color of choice. I choose white to go with the whole farmhouse feel I love. Once the lid is dry, attach it back to the baby wipe container and embellish the heck out of it. I went simple and hot glued a pretty sunflower to it. Yellow is my pop color in my house so it works.
The spray paint may chip while using the container. I don't care, though. It is part of the charm.
To make the grocery bags dispense like wipes do, lay out one bag flat and push all of the air out. Fold it in half. Do this to 10-15 bags. Lay the handles on top of the previous bag forming a train.
You don't want to use too many bags otherwise they might not dispense.
At the beginning of your bag train, fold the handles to the first bag to the side and loosely roll down the train.
Once you reach the end of the train, place the handle you folded in the beginning into the dispenser slot and gently place the rolled bags in the baby wipe container.
Pull the bag when you need one and the next one will follow.
I think it turned out super cute. Just remember you can use any colors and embellishments you wish. Make it your own and have fun! It's a super simple way to be a little more organized especially if you have active babies around. If you do, you'll need this tutorial and probably some Little Movers diapers too. In case you didn't know, they offer an amazing fit that stays put during active play! Find them at Sam's Club today!!