If you find yourself asking "Are cats dangerous for small children?" you are probably worried that your pet and your kid would end up hurting each other. You should not be excessively anxious since these two can coexist and even have a lot of fun in each other's company. Before you get too excited though, you need to take certain precautions to avoid dangerous situations between your baby and your kitty.
The kind of preparation you need to make will depend on the situation. Are you planning to adopt a cat or do you have one at home? Are you an expectant mother who is worried that your pet will not welcome the new addition to the family?
Here are some important details about cats and kids that you should consider if you are worried about your child's safety.
1. Adult Cats are Recommended for Homes With Kids Aged 6 Years Old and Below
If you have a big heart for cats and you think kids would be more responsible if they have pets at a young age, then do not let anything stop you. However, there are some things you need to take note of. If you plan on getting a cat, go for adult ones.
Raising a kitty and a child at the same time might sound fantastic. Unfortunately, there are more disadvantages than advantages to this arrangement.
Adult cats are less likely to injure kids when they are taken aback, and this is one good reason why American Humane encourages people with kids to take in adult cats into their homes. It would be better to have a two or three-year-old cat, especially when your child is six years old or younger.
2. Keep an Eye on Kitty's Hygiene
In many ways, having an adult cat is easier, especially when the cat has already been potty trained. It takes time to train kitties to use the litter box and how to act around kids. Kitties are just little kids too and just like your baby; they are more likely to misbehave than adult cats.
Scooping the litter box twice a day would be ideal. This keeps the odor in check and would make it less likely for parasites to be transmitted from your cat to your baby.
Another issue that you need to address is flea infestation. You need to deworm kitties regularly and ensure they do not have fleas. When kitties and kids play, fleas can bite your child, and hygiene can be a major issue too.
3. Adult Supervision is a Must When Kids and Cats Interact
Just to emphasize the above point, it would be better to have adult cats rather than kitties. Small children love rough play, and they could injure kittens. Aside from that, your kittens happen to have sharp claws which could hurt the kids.
Of course, you still need to keep an eye on kids when they play with your cats, but it would be less worrisome when you have an adult cat.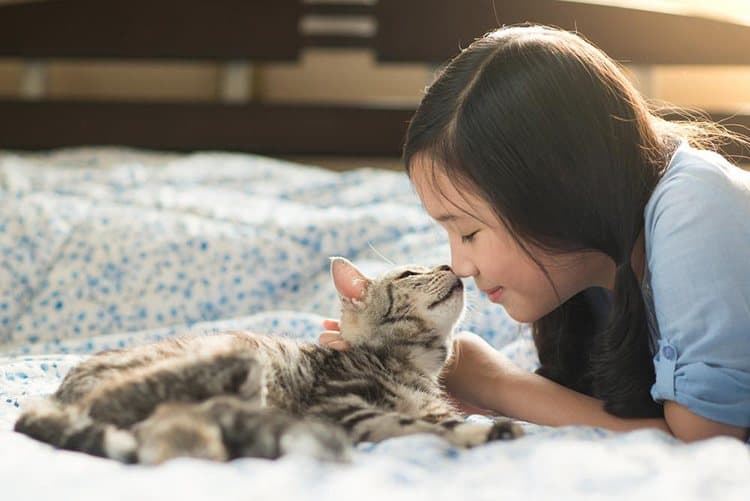 Give Cats Time To Adjust and Their Own Space
Your cat is just like an older sibling. They need time to get along with your child. One way to avert a disastrous encounter between animal and child is to give your cat their own playing area. This space should be inaccessible to your baby so your cats can have fun on their own.
Giving your cat a playroom which is furnished with a tree and a sleeping area would be nice. In a similar manner, make your cats realize that there are areas in the house where they are not welcome, particularly, the nursery.
Teach Your Child to Be Gentle to Cats
Small children may be rowdy and energetic, but getting a lesson on how to treat pets is something they can learn even at a young age. Make your child realize they should not play rough with the family pet. This is a vital lesson that could be useful when you want to keep kids safe around cats.
While teaching kids about kindness to animals, remind your children not to befriend random cats. House pets are alright but random felines in the neighborhood can be dangerous.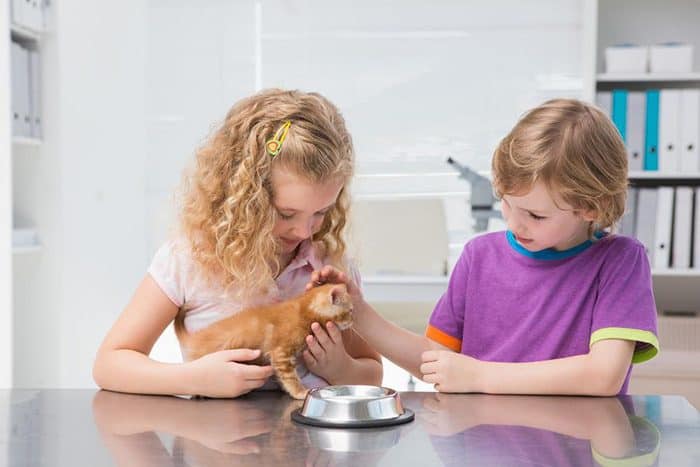 Wrapping It Up
Hopefully, you have a better idea of what to do if you want cats and kids to live in one home. As noted above, raising kitties and kiddies side by side is possible. Just be sure always to keep an eye on the kids while they are playing with your cats.
At the end of the day, necessary precautions will prevent accidents from happening. Don't hesitate to share what you think in the comments section below. Are cats dangerous for small children?