Note: This article contains affiliate links (hyperlinks, widgets, or through images), which means I receive compensation if you purchase a product through them. Regardless, I only recommend products or services I use personally and/or believe will add value to my readers. Visit my disclosure page for more information.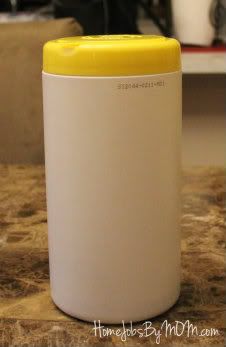 I am a huge fan of Clorox wipes. I used them all the time until recently. They are just so convenient but I must admit they aren't the cheapest things in the world. Having two boys and one of them being two years old I always have something to wipe up. If it's not mud tracked through the house, it's left over food splotches that someone threw. Not to mention the kitchen counters and my sons booster seat that needs a good wiping several times a day. Wiping so many things SO many times a day uses a lot of wipes.
I went threw a container of around 80 cleaning wipes in a week and a half or so. Wipe the high chair. A wipe in the trash. Clean the counters. A wipe

in the trash. Times three times a day (plus all the million others things that need-a-wiping) equals a lot
of unnecessary trash. While spending $12 or so a month on cleaning wipes isn't completely outrageous spending less than $6 on something that can last for WAY longer is much more attractive. Saving money is always nice!
Making your own disinfecting wipes (or homemade hand sanitizer or kid safe ant spray) is very easy and produces a lot less trash than the store bought version. I wish I would have read the The Dollar Stretcher's Homemade Disinfectant Wipes article a long time ago so I would have had this great idea sooner. I love my homemade disinfecting wipes!
1. Buy a pack of reusable cloths. I bought a pack of six anti-microbial rayon cloths for about $3 (I was used to the texture of Clorox wipes so I chose a similar feeling fabric). You can find these in the cleaning aisle of the grocery store or sometimes hanging near the paper towels. Any washable cloth will do though (i.e. wash clothes or cutting up an old t-shirt). I cut up each of the six clothes that came in the pack into six fairly equal pieces. So the pack I bought for $3 gave me 36 wipes once they were cut. I have found that 36 wipes is plenty since they are reusable. If you do as much laundry as I do throwing in a few extra wipes is no biggie.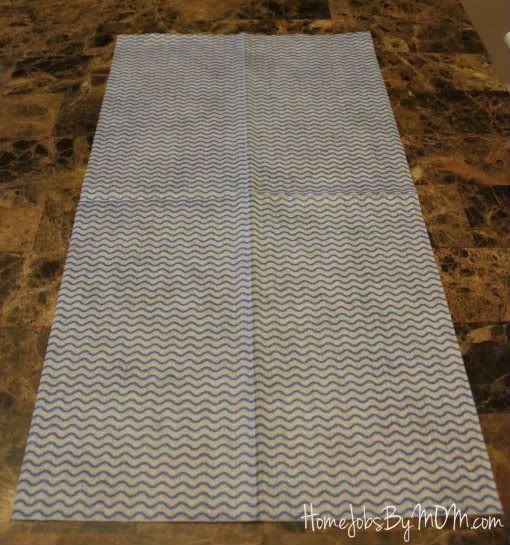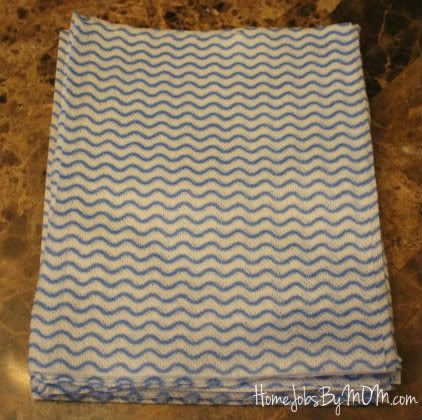 2. Buy a bottle of your favorite multi-surface cleaner like Pine-Sol (pine oil is a more natural disinfectant than some of the other ingredients in

other cleaning products) or something similar. These cleaners seem like that will nearly last forever since they use 1/4 cup cleaner per gallon of water. Unless you are using this for mopping a bottle of cleaner will last a very long time. I made a gallon of solution and just stored the extra in a milk jug. I marked the jug with what was in it and keep it under the sink with the other cleaning supplies.
3. Being a huge fan of Clorox wipes I just saved one of their containers to put my homemade wipes in once I decided to make the switch to my homemade wipes. You can also use an old baby wipe container or just a regular piece of Tupperware to store your wipes. My husband sometimes complains that the Clorox wipe container is too small for his hands to go into since my homemade wipes can't be threaded like the Clorox wipes. So if you have a helper husband you may want to use a container he can stick his big "manly"
hands in.
4. To make your homemade disinfecting wipes just place the cloths in a container with enough multi-purpose solution to saturate them. As the cloths
come out clean from the dryer I save them till I finish all the wipes and then just redo the process. Wipe. Wash. Reuse. Easy peasy lemon squeezey as my six year old would say. What is your favorite cleaning product? Are you into green cleaning?
Krystle Cook – the creator of Home Jobs by MOM – put her psychology degree on a shelf and dived into a pile of diapers and dishes instead. She is a wife and mother to two rambunctious boys, sweating it out in her Texas hometown. She loves cooking, DIY home projects, and family fun activities.