This shop has been compensated by Collective Bias, Inc. and its advertiser. All opinions are mine alone. #TryTENAMEN #CollectiveBias
There comes a point in everybody's life where the child becomes the adult. Maybe your parents are at an age they can no longer live alone or have recently suffered a medical setback and need some extra help.
In my case, my mother passed away before she had the chance to experience the parent-child role reversal. I inherited her fate. My 94-year-old grandfather lives with me.
Honestly, my grandfather does absolutely fantastic for his age. People are often amazed when they find out just how old he is. Not only does he look pretty good for his age, but his mind isn't too bad either. When he was writing a memoir he used our old pictures and videos so creatively.
He still tries to be as independent as possible, but this has decreased as the years pass on. Totally something we would expect.
I love being able to share these days with him. He has always been the best grandfather, but being a caregiver can be hard sometimes.
Caregiving is hard work and oftentimes stressful. To help caregivers out here's a DIY Survival Kit that would make the perfect gift and lighten their load!
Click To Tweet
It is a lot like becoming a new parent for the first time or babysitting a young child. Sometimes you have no idea what you are doing and want to pull your hair out.
It's kind of funny how generations so far apart can be remarkably so similar to one another. They both need a lot of help in all facets of life.
Thankfully, I got in on the ground floor with my grandpa, so he's been able to teach me his likes and dislikes from the get-go. Whereas with babies, you have to wing it and learn on the fly.
Along the way, I have learned a lot of things. You'd be surprised at some of the medical knowledge I've sponged up over the years. To help other caregivers out, I've come up with a DIY Caregiver Survival Kit that they will love.
DIY Caregiver Survival Kit
Hover the image below to purchase TENA® MEN™ Protective Shields right now!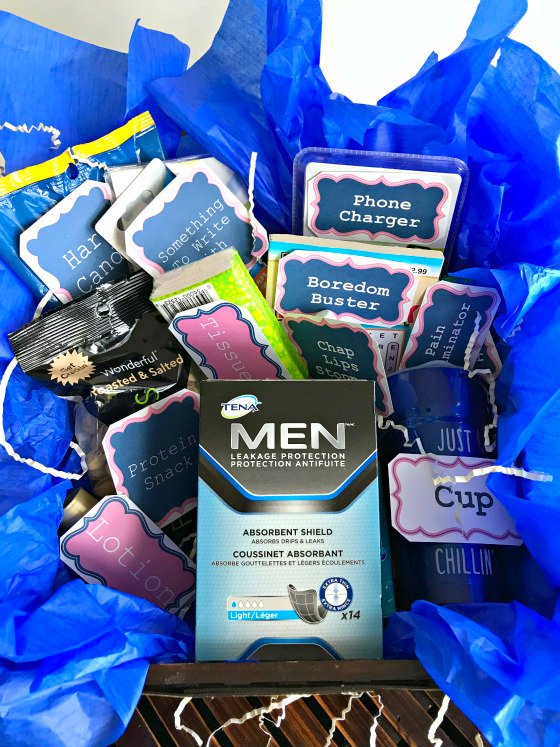 An easy DIY gift for the caregiver in your life. Let them know just how much you appreciate them.
Are you taking care of a male patient? My DIY Caregiver Survival Kit would be perfect for you! It has males in mind.
This gift basket includes TENA® MEN™ Protective Shields that I bought at CVS. They are great for caregivers watching males to have on hand – they have a cloth-like outer cover, which makes them very discrete for your patient.
Although you will find that most elderly folks don't have any shame. From slipped farts to talking about bowel movements. It's all fair game to chat about, but they will still appreciate the extra confidence boost.
TENA® MEN™ Protective Shields are an ultra-thin pad with a cup shape that provides light protection against light drips and dribbles while keeping your patient comfortable and secure.
Let's face it; it happens to the best of us. Just ask a pregnant woman.
This DIY Caregiver Survival Kit is SO easy to put together…All you have to do is 1) edit the tags, 2) print and cut out the tags, 3) place tags on products, and 4) put everything into a basket!
Products:
TENA® MEN™ Protective Shield 
+
Lotion
+
Chap Lips Stopper
+
Tissues
To keep you ahead of the game and prepared.
To beat germs down.
Cup
To put your best foot forward with COFFEE.
Something To Write On
+
Something To Write With
To jot down doctor's notes and appointments.
Protein Snack
To give you long-lasting energy.
Gum
+
Hard Candy
To keep your mouth busy in times when you should be quiet.
Pain Eliminator
So your head won't spontaneously combust.
Boredom Buster
To keep you busy during appointments and nap time.
Phone Charger
An easy way to make sure you always can ask for extra help when you need it.
You don't need to include all of these products; it is just a good place to start. Just a few ideas to help you out!

What would you include in your DIY Caregiver Survival Kit? Is there someone in your life you could bless with a little "thank you" gift like this?