Spring is coming and you know what that means! Bright colors and the perfect weather to enjoy a nice day out with loved ones! It may also mean the annual spring cleaning, where it's time to spruce up your home with little creations to make it brighter and homey.
Home projects don't need to cost hundreds of dollars, and you can actually do DIY projects for the springtime! Not only is this a fun way to improve your creativity and spend time with loved ones, but you can save a lot of money as well! Here are our top four easy and affordable DIY projects to make your home have that spring vibe!
Framed Spring Botanicals

Spring means flowers, and let the flowers bloom in your home by framing it up! No need to wait for your favorite flowers to bloom, though. All you need are pretty frames, fake flowers, and tape to hold it up. This project only takes a few minutes!
Tape the fake flowers to your frame or wall, and hang it up in your living room or bedroom for that spring vibe. We recommend you to hang it up a room where sunlight is abundant, for an even brighter atmosphere.
Painted Cushion Covers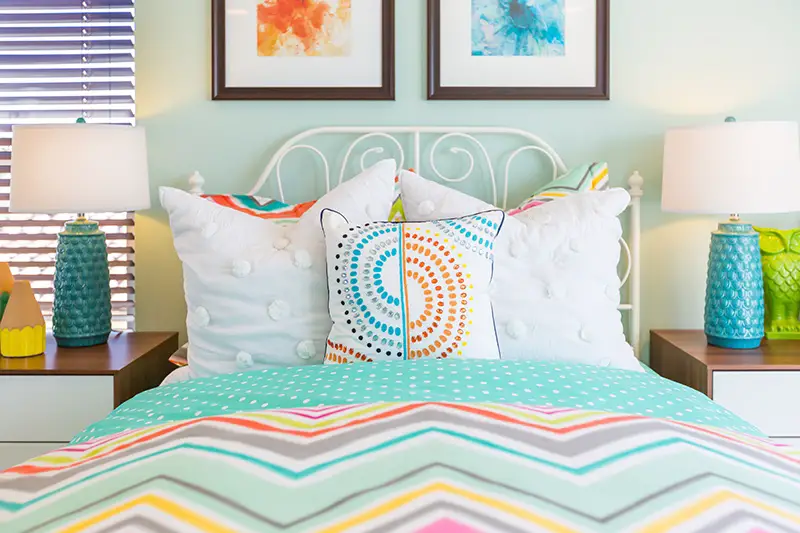 Add more vividness to your living room or bedroom with hand-painted throw pillows! You can refresh your usual pillow covers instead of replacing them with brighter colors. All you need are white curtains and acrylic paint on fabric for you to brush the patterns and create pretty pillow colors that match your style.
There's no pattern needed! Do whatever style you want, from lines to handprints for a more personalized design. You may need sewing skills to properly create pillow covers from curtains, but it's still pretty easy to do.
Dipped Marble Vase

Maybe your dining room table needs a bit of color! Using a plain white vase (or painting a clear vase white), dip it into the paint (or even nail polish!) to get that beautiful, marbled effect. Finish it off by adding flowers, and you've got yourself a well-decorated table! All you need is a white vase and nail polish (colors of your choice).
Mix your nail polish colors and mix them into a basin of water. Dip the white vase in the water and remove it quickly, making that marble effect. Let it dry overnight, and you've got a new and improved vase for your home! You can learn more about how to do it in this awesome tutorial.
Hanging Vases

Another awesome idea for your rooms would be hanging vases using jars and ropes! It adds an antique and peaceful vibe to your rooms, just in time for spring. And all you need are mini jars and twine to make this happen!
Tie the twine around the neck of the jars, making a tight knot so it won't fall off. Find a place around your home where you would want to hang it, and once it's hanged (using a nail), cut some flowers and add them in! Just make sure that you use light jars, or heavier rope that will withstand the weight of the jars you will use.
Home improvement for this spring doesn't mean you need to spend tons of money. All it takes is a bit of creativity and the time to start a DIY project! There are a ton of DIY projects you can do to make your home look vivid and beautiful for the spring season, and it doesn't require the most creative of minds either. With simple and easy-to-do projects, you can try it with your loved ones and be proud of what you have made!
Hopefully, this article on the four best DIY projects this spring season will have helped you with improving the interior design of your home. So what are you waiting for? Try any of these projects today and get ready for the awesome spring season ahead!
We hope you enjoyed the article! If you have any more comments on the four best DIY projects this spring season, then do comment down below. We would love to hear what you think.