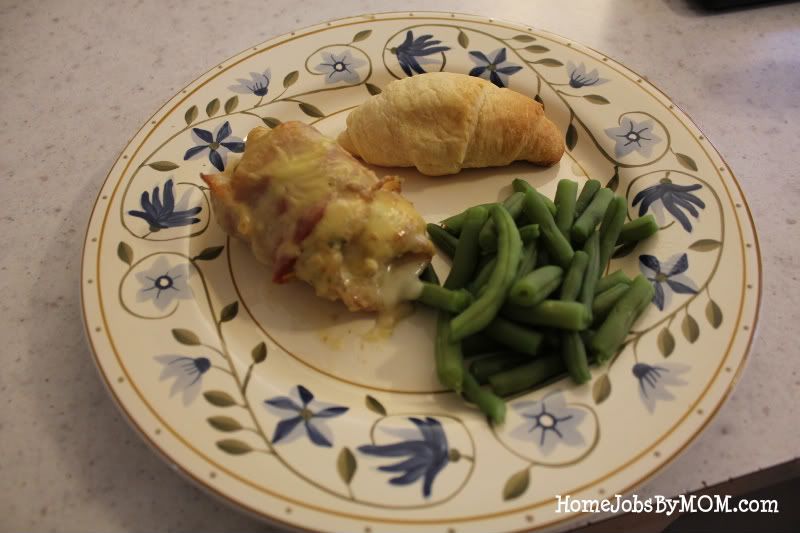 This is an easy and yummy recipe that my whole family loves. Cheese, chicken, ham…I was pretty much sold right there. I have been making this recipe for years and it never disappoints. I found the original version of this recipe on All Recipes. I've stuck with the original recipe for the most part but changed a few things to better suit my family. If you are worried about fat content I've listed some alternatives in parentheses that can make this recipe a little more waist friendly. I think this recipe goes great with fettuccine alfredo and green beans. Yum! 
Ingredients
1 cup of milk (skim milk)

1 cup of Italian bread crumbs

6 skinless, boneless thin sliced chicken

6 pieces of ham

6 slices of provolone cheese (a fat free version

)

2 tablespoons of vegetable oil (olive oil cooking spray or sometimes I just bake the rolls without browning the sides at all

)

1 (10.5) can of condensed cream of chicken soup (the fat free version

)

1/2 cup heavy cream (skim milk

)

salt and pepper

Optional: 6 slices of bacon
Directions
1. The first thing you will need to do is preheat the oven to 350 degrees. Next, place the milk and bread crumbs into two separate swallow bowls. Lay out all the chicken slices on a cutting board or a plate and season it to your liking with salt and pepper.
2. Place a piece of cheese and ham on the center of each chicken slice. Starting from one edge of the chicken start to roll the chicken. Once you can no longer roll anymore pin the chicken together with tooth picks (I used about 3 tooth picks per chicken).
3. I set up my cooking space like a little assembly line to make this whole process a little less messy. I placed a 9X13 baking dish, the bowl of milk, the bowl of bread crumbs, the seasoned chicken next to each other in that order. I dipped the chicken roll into the milk, rolled it in the bread crumbs, then placed it on the baking dish.
4. Heat the oil over medium high in a large skillet. I started heating the oil while I was rolling the chicken slices. Try to brown all sides of each chicken roll the best you can. This can be a little bit difficult with all the tooth picks sticking out. Just do your best. Once all the chicken rolls are browned place them back into the baking dish.
Optional: Do you love bacon? Yes, I know this is really unhealthy but bacon just tastes so good. Mmm bacon. Are you thinking of those dog treat commercials now? But seriously, these rolls are even more excellent when wrapped in a piece bacon. Please precook the bacon in a pan before wrapping it around the chicken rolls. I have found that this recipe does not have a long enough cooking time to fully cook the bacon.
5. While you are browning the chicken rolls you can also start the sauce. Pour the soup and cream into a small saucepan and season it with salt and pepper. Heat the mixture over medium heat. The sauce should be thoroughly heated by the time you are done browning the chicken rolls.  
6. Pour the sauce over the chicken and bake it in the oven for about 30-40 minutes. Check the chicken about 25-30 minutes into the cooking time to see how everything is progressing. You can check for pink by cutting into one of the chicken rolls. Surprisingly for something so small I have noticed it can be tricky to cook all the way through so check for pink.
Make sure to remove the tooth picks before digging in. Please let me know if you try this recipe and what you thought of it. And if you make any alterations please let me know. I am always up for changing things up. Bon Appetit! What side do you think would go well with this? I'd love a recipe to try.