We all  need to do our part for this place we call home, Earth. There is only one Earth and just like anything else if we want it to continue going the way it is we need to help it out as much as we can. Some people think going green is too much of a hassle but with some effort anything is possible.
In my household we have two trash cans in the kitchen. One is for trash there other is for any recyclable materials. Doing this makes recycling real easy. It's just as easy throw paper into the recycling bin as it is the trash can. Once the recycling trash can is full it gets dumped into the recycling canister that the city picks up and takes away.
We also use energy saving light bulbs and even installed an occupancy switch in the kids bathroom. They were always leaving the light on before but this turns the lights off automatically saving us energy and money.
Another way we reuse is that we shred all junk mail and papers we do not need and line our rabbits little box with it. I know this isn't recycling but it gives the paper a second use and saves us some money as well.
To become a little greener you can start by using products that are environmentally friendly. You don't want to use toxins to get rid of germs. With the help of things like essential oils you can make effective homemade disinfecting wipes, kid safe homemade ant killer, and even homemade hand sanitizers. You don't need harsh chemicals to clean some of the most popular stains. All you need are some things like vinegar, water, and salt and of course some elbow grease.
If you don't want to start by making your own eco friendly product why not buy some? Might as well, right? Walmart carries a paper product brand called GreenEarth. It is the eco-friendly line of White Cloud toilet paper and paper towels that is made from 100 percent recycled fibers (all GreenEarth products maintain a Forest Stewardship Council certification). To see what else they offer please check out White Cloud GreenEarth products page. GreenEarth has high quality standards and is affordable making "Living the Green" doable.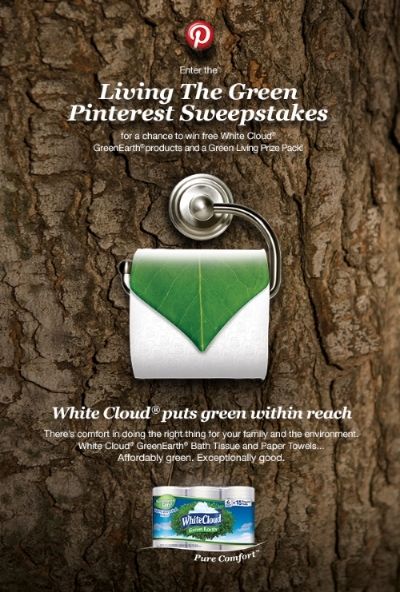 Are you cocking your head and questioning what I meant by "Living the Green"? White Cloud is hosting a Pin it to Win it "Living the Green Sweepstakes". There is NO PURCHASE NECESSARY. Ends 4/30/13. Click here for Official Rules. Please read the Sweepstakes Rules and Regulations before entering. To enter:

1. Follow White Cloud Pinterest page
2. Create their own "Living the Green" Pinterest board
3. Repin at least one Pin from the White Cloud "Living the Green" Pinterest board to their board and include the hashtag #LivingTheGreen in the pin's caption.
4. Visit mywhitecloud.com/promotions and complete the sweepstakes entry form.

Happy Entering!

When did you go green? What do you do to save energy and recycle products in your home?

This is a Sponsored post written by me on behalf of White Cloud.  All opinions are 100% mine.