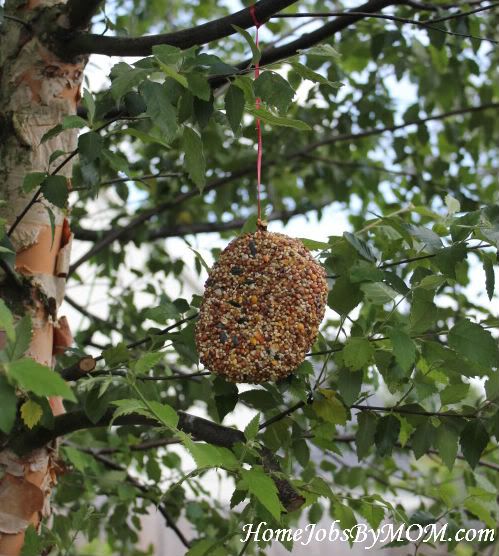 My kids love nature as most do. They are so fascinated with how the world works and how everything is intertwined. This summer my oldest son was on an animal kick. It probably started because we found a bunny nest in our backyard. There were four or so tiny baby bunnies hiding in one of our plants. They were so cute! Bet you can't guess what my son ended up wanting for his birthday, can you? Yep! He wanted a bunny. So now we have Thumper. He's a sweet, super soft bunny. You can totally tell the difference between him and the wild bunnies. The wild bunnies were so scared and didn't want to have anything to do with us, but Thumper practically comes wagging his tail when he see's us. I like to joke that he's like a dog. 
Anyway, I told my son we could make a bird feeder and feed the wild birds in our backyard to keep in touch with nature. He liked that idea. 
He doesn't have to worry about the wild bunnies going hungry either. Apparently, we are also feeding the wild bunny farm that is our neighborhood too because they keep stealing my tomatoes and strawberries. Next time I plant a garden I need to bunny proof. Chicken wire?? I'm not sure.
It's super simple (way simpler than my Mario Room Mural) and quick (but just as quick as my Displaying Kids Artwork Craft) to make a natural bird feeder.
Supplies
Bird seed

String

Bagel
Peanut Butter
Spoon/Knife
Bowls
Directions
Get a bagel (a stale one would probably work the best but a fresh one would work too) and tie a piece of string on it. This is what you will use to attach the bird feeder to a tree.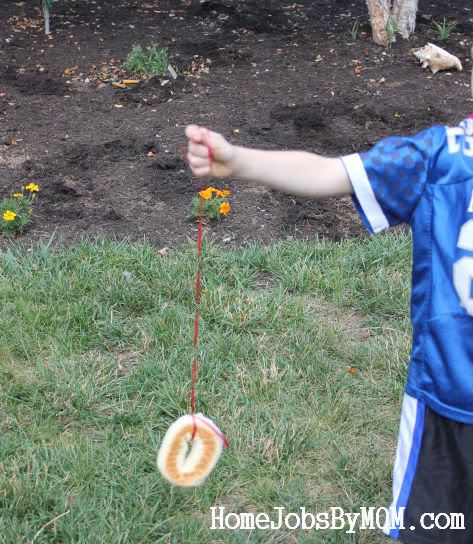 Then, slather peanut butter all over it. This can be a little messy so I suggest making this an outside project.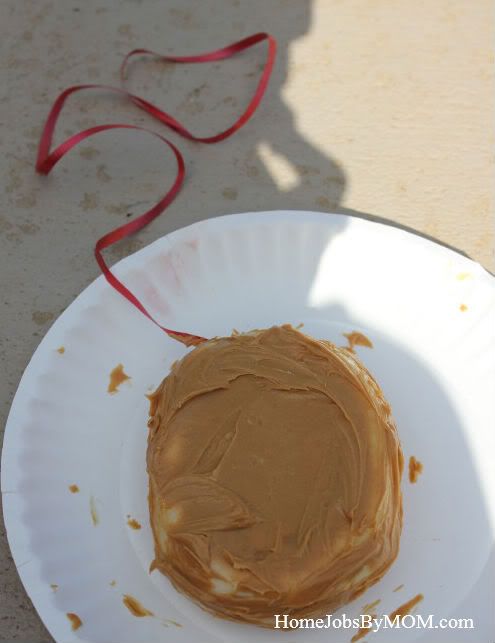 Pour some bird seed in a bowl and then dunk in the peanut butter covered bagel. Cover all of the peanut butter with bird seed and walla you now have a homemade natural bird feeder. Just hang it in  a tree and watch the birds go to town.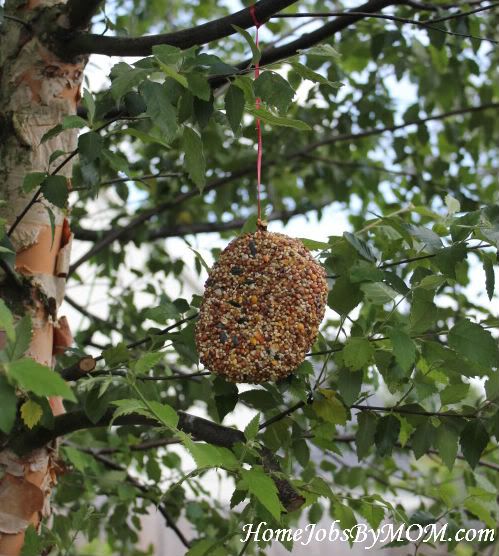 Tip: I would suggest looking at the weather forecast to make sure there is no rain in sight. This bagel bird feeder won't hold up in rain as you can imagine.