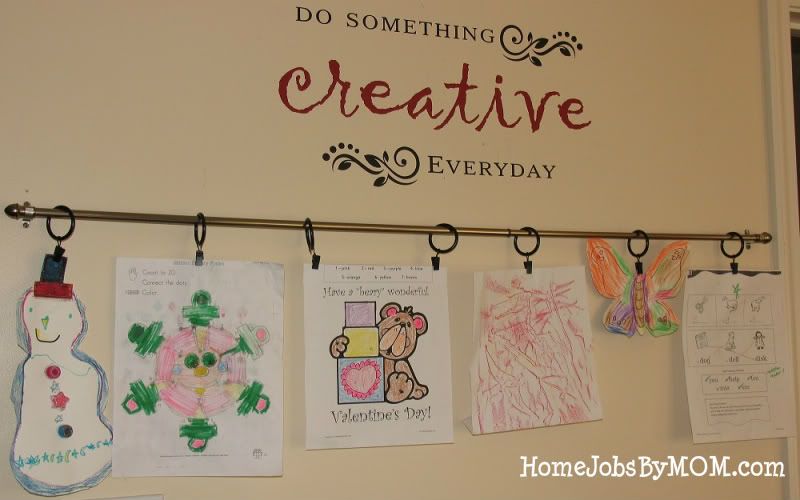 Is your fridge plastered with cute little drawings and A+ papers from your children? My oldest son is always wanting to draw something and hang it up somewhere. He would tape them all to his bedroom walls if I would let him. When he was in preschool I would put every drawing, painting, and paper that he made on my fridge. After a while I got tired of my younger son ripping all the papers off the fridge and dragging them all throughout the house. For this to stop happening, my fridge had to be mostly clear from my children's artwork (at least out of the reach of little grabby hands). Now all I have on the front of my fridge is the school cafeteria menu and the public schools calendar…
This is because I decided to make an area in my kitchen an artwork/homework display for my children.
To decoratively hang your children's papers:
Choose an area in your house where you want to display your children's artwork. I chose an area where visitors would be able to see my children's display. Having the artwork/homework being display where other people besides our family can see it gives my son a sense of accomplishment. He knows that we are proud of his work because we are showing it off.

Buy a curtain rod. The length of the rod depends on the size of the wall you are putting it on. I just bought a cafe Rod that fits on a normal 48′ window for around $3-5.
Buy curtain Clip Rings that are usually made to hold drapes. Make sure you have enough to hold several pieces of artwork. I believe the pack I bought contained 7 for around $5-8.

Install the curtain rod  in your desired area just like you would if you were placing the rod on a window.

Slide the clips on the rod and place the rod on its holders. 

Now you are ready to start hanging your children's master pieces!

To make the area a little more attractive I decided to place a decal quote  over the curtain rod. You can find some good deals on eBay for decals. Just search for vinyl wall quotes. You could also maybe put pictures of your children over the rod to showcase your artists.
When my son comes home from school I asked him if he wants to trade one of his new papers/artwork for one of his older pieces. Doing this brings a revolving art gallery that I get the privilege of seeing everyday in the comfort of my own kitchen! How do you display your children's artwork?