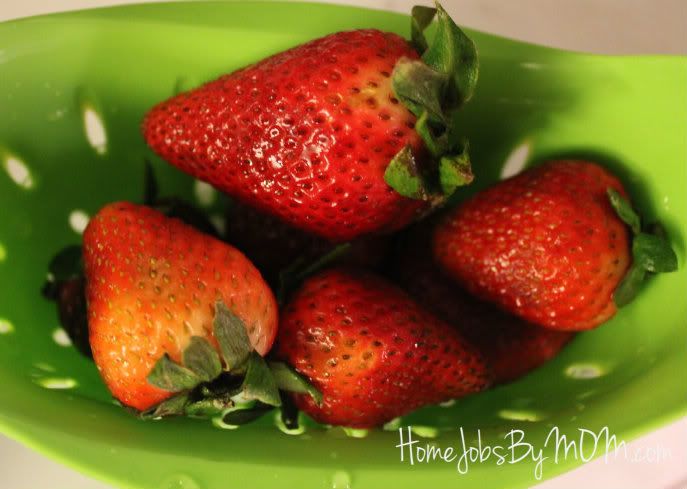 If you Google hull it has SO many meanings. There's hull of a ship, a slew of cities named Hull, various math terms involve Hull, and there's even a University of Hull. For some reason though hull also makes me think of hauling a truck but that has more to do with how certain people pronounce the word.
Recently, I came across a recipe that required me to hull a strawberry. Hulling a strawberry might also come in handy with my Fruit Pizza Recipe. The first thought that came to my mind was that it has to mean to take off the stem. That's the obvious guess, right? Nobody eats the stems and leaves unless you're my bunny Thumper.
In order to hull a strawberry I would first suggest that you rinse off your strawberries in a strainer. You never know what is on them and who has been handling them.
I then remove the leafy part of the strawberry with my fingers. I find it easier to remove the leaves first rather than trying to cut the whole part out (this allows me to see the stem area better).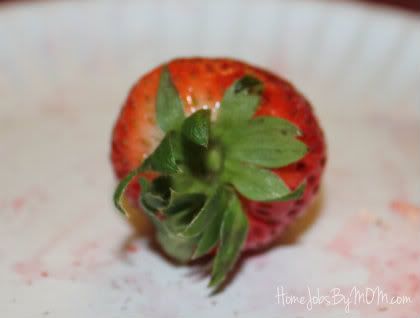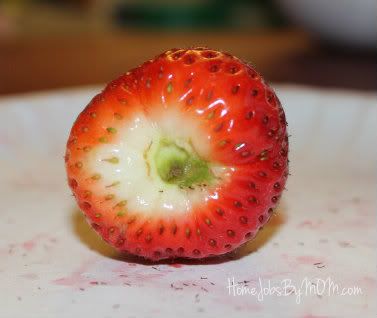 Next take a knife and angle it inward toward the strawberry's center. Gentle cut the stem area at an inward angle while turning the strawberry to complete a circle. At the end you should have a cone shaped piece of strawberry that you can remove. And that is hulling a strawberry! What fruits do you skin? Do you use a corer for things like an apple?