This post brought to you by Scotts Miracle-Gro. All opinions are 100% mine.
As you may know we recently built our own home and just last week the builder came out and sodded the yard. I think it's great that they gave us some grass but our backyard looks pretty funny with only half of it sodded. It goes grass grass grass big mud pile. The boys sure do love it though. My mud dobbers. The rule is they sod the front yard and only so far in the backyard. Grass seed here we come!! Sod is definitely way more expensive than seeding. While it may take longer to grow I much rather save money and keep some doe in my pocket.
Eventually though we've talked about maybe a coy pond and raised garden beds.
However, this year our goal is working on the inside of the house, but next year it's yard time. We plan on landscaping, maybe putting in a patio, and just trying to make it look nice. To jumpstart a new yard I will need a lot of gardening supplies like an edger, good dirt, shovels, flowers, fertilizer, and some kind of mulch like Scotts Florida Select Natural Eucalyptus Mulch. I love to put mulch in flower beds and around trees. I think it's a nice finishing touch.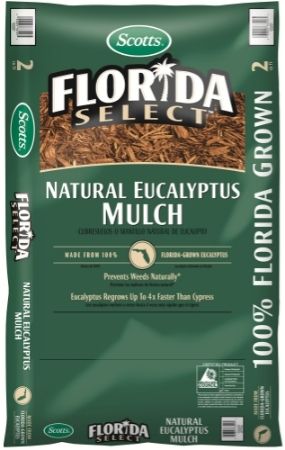 For my Florida natives out there, eucalyptus mulch is great for your area because it is a natural renewable resource that prevents weed while keeping soil moist and at a nice temperature-perfect for sustainable gardening. Best of all it's grown locally so when you buy it you will be helping your local economy. It's simple to use too. Just spread about 3 inches deep around plants and beds that have developed plants.
Shucks. We all can't live in Florida can we? Well, for those of us not in lovely Florida Scotts Nature Scapes mulch has the same benefits listed above and also comes in a variety of colors to match your landscaping needs. Personally, I usually go for really dark mulch or almost black. I'm not sure why but I just prefer that. I also prefer dark woods in furniture than light. I just like dark I guess. I have noticed though if you use a dark mulch like black the color can be washed away with enough water. Eventually it all fades and doesn't look as nice. If that is going to bother you you may be better off choosing a more natural color.
What is your favorite thing about your backyard? Is it a retreat or just grass? Do you have a garden?