This shop has been compensated by Collective Bias, Inc. and its advertiser. All opinions are mine alone. #StockedWithLove #CollectiveBias
Christmas is right around the corner. To be honest, I can't wait. I will be hosting our Christmas gathering this year and that means my grandmother will be spending the night. She lives within driving distance but these gatherings are sometimes known to last into the wee hours of the night. She can't drive at night so I get to have a house guest for the night. I couldn't be more excited! To make her feel welcomed I decided to make a Christmas Stocking especially for her. Here is a fun inspiration for how to welcome overnight house guests with a Christmas stocking made just for them.
Christmas Stockings Made For Overnight House Guests
Hover the image below to start your stocking stuffer shopping today!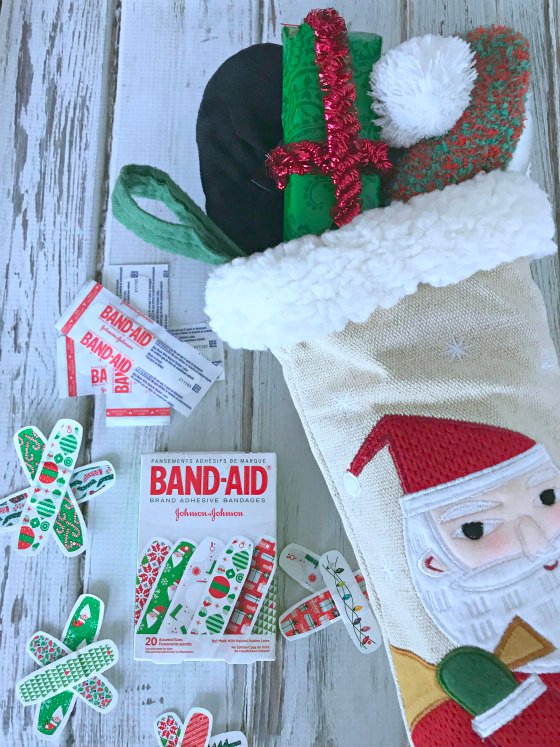 To get started, you will need an amazing Christmas stocking. This can be something homemade or store bought. I went to one of my favorite stores, Target, of course! They had everything I needed to make this tutorial rock.
I chose a Christmas stocking that features an old-timey Santa Claus. It was absolutely perfect for my grandmother because her mother collected Santa Claus', especially old ones. It's a great way for her to remember her mother and smile.
Once you find the perfect Christmas stocking, you really need to think long and hard about the person who you are ma
king it for. What do they like? What will make them more comfortable? The first thing that came to my mind is BAND-AID® Brand Adhesive Bandages! You may think this is an odd choice, but if you really knew my grandmother you'd be like "Of course, that's perfect!".
You see, my grandmother isn't your typical pushing 90-year-old grandma. She's SUPER active. Let's just say active is an understatement. Unfortunately, she always gets knicks, cuts, and scraps working on her yard and house. Sometimes she causes more damage than that but thankfully all she usually needs is a BAND-AID® Brand Adhesive Bandage. Being the #1 Doctor Recommended Brand, she can slap one on so her hurts heal faster and get back to doing what she loves.
So naturally one of the items I included in her Christmas stocking was Brand-Aid® Brand Adhesive Bandages holiday collection. They are fun and festive and most importantly something she most definitely needs.
Making Christmas stockings for overnight house guests is SO easy to put together…All you have to do is 1) find the perfect stocking, 2) fill with thoughtful gifts, 3) place in their guest room and 4) multiple for number of house guests. It's that simple!
I wrapped a few of the stocking stuffers to make them feel like little presents. It's more fun that way!
Other Christmas Stocking Stuffer Ideas
The first level of my house is all tile except for the bedrooms. This can make walking around barefoot pretty chilly in the wintertime. So another few things I included in my grandma's Christmas stocking was slippers and socks. While she may claim she is always hot I do not need her catching a cold on my watch.
My guest room has one wall with near floor to ceiling windows. Despite having blinds that cover the lowest portion of the windows a lot of light still comes through transom windows at the top. This can make early morning sleeping pretty difficult. So a sleep mask was another must for her stocking.
A Christmas stocking wouldn't be complete without a few midnight or early morning snacks to dig into. I gave her a variety of sweet and salty. I also include a phone charger. Lord, knows you can never have too many of them and this will come in handy if she forgets hers.
There are a ton of other products you can include in a Christmas stocking for overnight guests. Toiletries? Candy? Just try to think from their point of view and what would make them more comfortable in your house.
Are you having overnight house guests this holiday season? Stop by your local Target and check out all the amazing goodies they have. Seriously, it is impossible for me to go in there and buy just one thing!