This 4th of July I thought about making my fruit pizza with only red and blue berries but I decided to make something a little easier instead. My kids are huge strawberry fans. If a strawberry is included in a dish you almost can be sure that they will eat it. I slightly altered the strawberry idea that I saw on the blog Grin and Bake It. I think it is such a great idea! Strawberries and chocolate. Yum!
Ingredients
Strawberries
White Chocolate Pieces
Blue Food Coloring
Sugar
Option 1
First thing I did was wash the strawberries (no hulling required). Then I got two small bowls and filled each of them with some of the white chocolate pieces. Microwave the chocolate pieces in 30 second intervals until all of the chocolate is fully melted. Don't forget to stir between the intervals as well. Do this for each of the bowls of white chocolate.
Put some blue food coloring in one of the bowls of chocolate dying it a nice blue color. Dip in about half of a strawberry in the white or blue melted chocolate. Arrange them on a platter alternating the colors.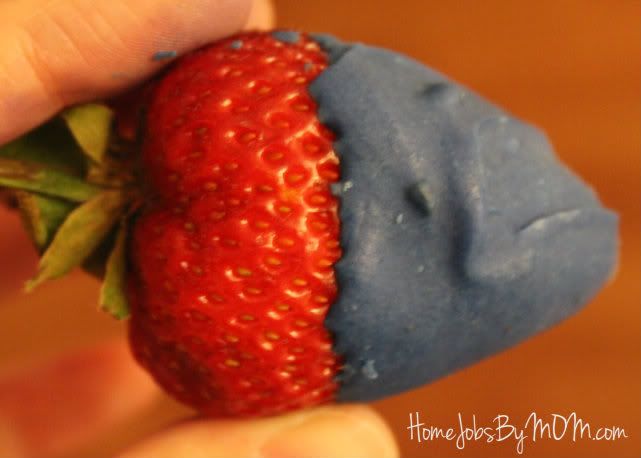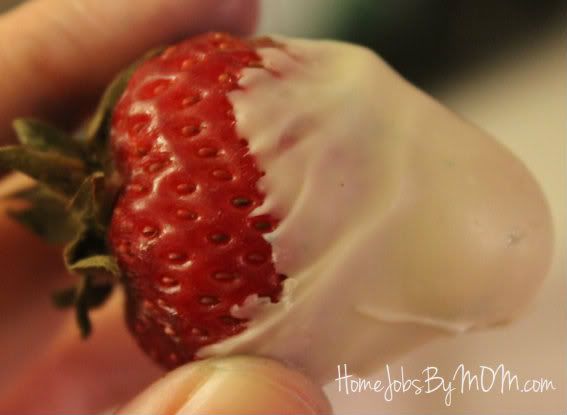 Option 2
You can also buy blue sanding sugar or crystals and dip the ends of a freshly white chocolate covered strawberry into the sugar. Every where I went they either did not carry the sanding sugar in the correct color or they were out. I opted to dye sugar blue by putting a few drops of blue food coloring in some sugar and mixing it. This worked out quite nicely.
Come to think of it these strawberries would also be great for Memorial Day. I know most people grill out for these type of holidays. What do you do? Do you have a traditional dish you make for the 4th of July or Memorial Day? I'd love to hear about it!