It is very important to take care of your pets. Whether you have a cat or a dog they are now a member of your family that needs maintenance just like anyone else in the family. That means giving them baths, taking them to check ups, and giving them any preventative items (like Vectra Flea and Tick Control).
Just last week I lost a pet of ten years to cancer. We had no idea that she had cancer. We knew she was getting old and just chalked it up to that. If she had had her regular check up a few years back there could of been a chance we could have saved her. It's been very sad especially for my oldest son. She had been sleeping on his pillow every night and he had started to get really attached to her. It was awful having to watch him cry over her. So please do all you can for your pets.
Vectra 3D is a flea and tick control only for dogs available at your local vet office. It is an extremely fast, long acting product that protects against a variety of bugs (and their eggs) that may attack your dog. Add it to your puppies routine once they are 7 weeks old and keep those critter from eating up and spreading diseases to the new addition to your family.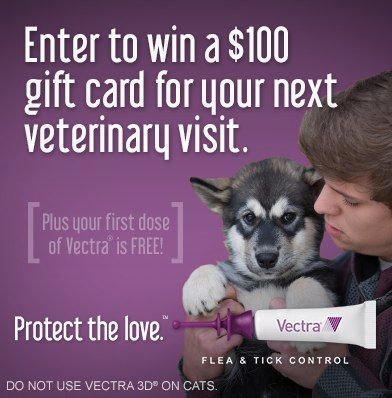 Claim a free dose of Vectra flea & tick control by entering the Protect the Love Facebook Sweepstakes for $100 gift card to use at your next veterinarian visit. A gift card will be rewarded each week for the duration of the Sweepstakes. Just enter the giveaway and then visit FirstDoseFree.com to fill out a form to get your free sample. Be sure to like and follow Vectra on Facebook and Twitter to stay on top of your pet care needs.
Disclosure: This post brought to you by Vectra flea & tick control. All opinions are 100% mine.