This shop has been compensated by Collective Bias, Inc. and its advertiser, Emergen-C®. All opinions are mine alone. #FallImmuneSupport #CollectiveBias
It is officially Fall, which means holiday gatherings are imminent. I love getting together with family and friends to celebrate what life has to offer us. We usually do this with A LOT of food. I mean, it's not a real holiday unless we are truly packing on the pounds, right?
Since we started living in Texas, most of these gathering are now held at my house. It's great not having to travel across town with a bunch of food in tow, but that doesn't mean it's all lollipops and gumdrops either.
Let's face it hosting holiday gatherings can be STRESSFUL. You have to make sure your house is in tip-top shape. You wouldn't want Aunt May to be able to write her name on dusty furniture, would you? Then there is buying and preparing the majority of the food or at least the main dish. This is often an all-day cook palooza. Prepping, measuring, and a lot of hovering to make sure every is just right. And when you think everything is done, you find out you've forgotten to buy something or realize you weren't quite hovering enough and something boils over. It can make your head want to explode.
I admit I do NOT handle stress well at all. It often makes me want to throw my hands up and quit. Can I actually do that? No, not usually and most definitely not in the midst of hosting.
Since I can't completely run away, I like to sneak off to a quiet room. Usually, the room we have to send the cats to. Events stress them out, too. I sit and play with them and sip on a nice hot vitamin drink – Slower Cooker Blueberry Acai Tea – and relax for a little bit, gathering my strength to tackle the rest of the day.
This vitamin drink is magic in a mug yet is SO simple to make. You literally throw everything into a crockpot. Let the tea bags steep for 30 minutes and remove. Then cook on low for 4 hours and set to warm. It'll be waiting for you, all nice and toasty, just when you need it most!
The secret to its magic is Emergen-C® Energy+ Blueberry-Açai I bought at Walmart.
In a hurry to try it out? Hover over the image below to shop Emergen-C® products today!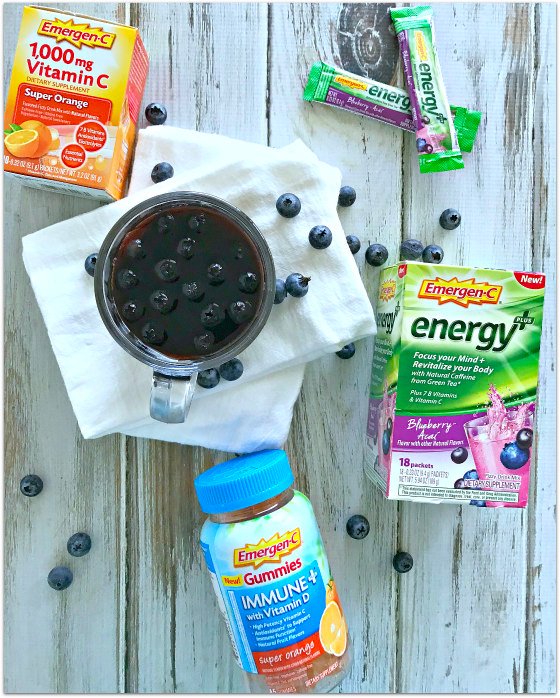 New Emergen-C® Energy+ is a powder-packed formula with natural caffeine from green tea to focus your mind*; electrolytes to help replenish your body*; plus 7 B vitamins to fortify you and vitamin C for immune support.* Emergen-C® Energy+ can be taken with the Emergen-C® Core or Immune+ products so that you can support your daily wellness needs. Use products as directed.
The moment this Emergen-C® infused vitamin drink hits my lips, it completely transforms my day. I'm just lucky that with over 20 flavors and a variety of special formulas, I can easily get back on track.
The original Emergen-C® Super Orange is packed with Vitamin C plus other key antioxidants such as zinc and manganese to support your immune system along with B Vitamins to enhance energy naturally.* Emergen-C® dietary supplements are the delicious way to start your day.
During extra stressful events, I even pop an Emergen-C Immune+® Gummy Orange for extra wellness support. Bursting with fruit-y deliciousness, chew your way through Emergen-C Immune+® Orange & Raspberry Gummies to support your immune system with Vitamin C and Vitamin D.* Yes, your favorite fizzy flavors, now in a yummy new form! Emergen-C Immune+® Gummies support your immune system with Vitamin C and Vitamin D, support your energy with B Vitamins,* and are made with natural fruit flavors. No water needed!
No matter how stressed I am, I know with Emergen-C® by my side (and of course in my AMAZING vitamin drink) I can burst forth and Feel the Good Every day. Even during the crazy holidays. With so many Emergen-C® varieties, I know you'll find the PERFECT one for you!
Slower Cooker Blueberry Acai Tea
It's a warm, relaxing, adult only tea bursting with a blueberry energy punch, cooked in the slow cooker. Perfect for chilly weather and stressful holiday gatherings!
Slower Cooker Blueberry Acai Tea
Ingredients
5

cups

Berry Juice

1

cup

Water

1

cup

Fresh Blueberries

1/4

cup

No Calorie Sweetener

2

packets of Emergen-C® Energy+ Blueberry-Açai

5

bags of Blueberry Tea
Instructions
Place all ingredients in a slow cooker.

Set on high and cook for 30 minutes. Squeeze and remove the tea bags.

Cook on low for 4 hours.

Set to warm and ladle at your leisure.
Get ahead of the upcoming holidays and the stress that it puts on your immune system by stocking up on Emergen-C® products today!
*This statement has not been evaluated by the Food and Drug Administration. This product is not intended to diagnose, treat, cure or prevent any disease.