In 2014, my sister in law got me into couponing. I wasn't extreme by any means but could easily stock up on everyday essentials like toothpaste, mouthwash, detergent, deodorant, and hair products. In fact, I haven't couponed for almost a year now and I STILL have a stockpile of some of these items. I only did it a few months and then life got in the way. I got a new job and moved and couponing was no longer something I could swing.
Thankfully, places like Walmart have great everyday prices on brand name items, even better right now! During the whole month of April, Walmart is having a huge savings event on must have household items. While I no longer coupon I'm always on the lookout for the best deals and steals to save my family money especially in the spring.
For our family, the spring is not just about tidying the house it means it's baseball season and we are super busy. There's baseball practices, baseball games, and road trips practically every day. This leaves us a very limited amount of time to go to the store and it's essential for us to have the basics items we use every day at hand.
There are some household items that you can never have too much of. There's no such thing as having too much dish soap, laundry detergent, paper towels, toilet paper, or toothpaste. Parents, you know you can never have too many diapers. And us pet owners can never have enough air freshener. It's just not possible!
Luckily, it's these kind of everyday essentials Walmart's April Stock Up and Save Event is all about. And it's not just your dollar store blow joe off brand items it's top brands like Tide, Bounty, Pampers, Venus, Gillette, and more. The brands you want!
Check out these much-needed products at your local Walmart or shop online at StockUpSave.com and save money today:
I just had to get in on the savings so I stopped by my local Walmart and bought several items that I KNOW I'll need this baseball season. Detergent is a given. We normally have laundry out the wazoo anyway but then throw in muddy baseball pants and I could literally be doing laundry every moment of every day. Whoever thought of having white baseball pants was a good idea obviously doesn't do the laundry. It's a nightmare so having a stockpile of laundry detergent is a must.
I also got some dish soap and shampoo in attempts to clean up ourselves and the house in the midst of baseball. Some days there may be a game that lasts till 9pm at night and then we have to turn around for warmups at 8am the next morning. Having these essentials stocked up ensures we (and our house) don't look like total slobs.
I also bought some toothpaste and air freshener to keep our mouths and house smelling their best. No one wants to smell morning breath at an early baseball game! And I don't want to smell cat litter first thing when I walk in the door after being out all day. Febreeze is amazing. That's saying something considering I have three cats!
I know parents of infants are rejoicing that they included diapers in the April Stock Up & Save Event. I know I would be. I remember how I could never have enough diapers when my kids were babies. They went through them like they were nothing so I always bought a huge box and looked out for deals like this event. Today, I am just happy I am able to buy these name brand diapers for a baby shower gift. Pampers Swaddlers were always my favorite!
Right now you can make the April Stock Up & Save Event even sweeter with the Ibotta app. If you haven't heard of Ibotta you're missing out. Ibotta allows you to get a rebate from items you would buy anyway just by submitting your receipt and verifying your purchases. It's a great way to get some cash back. And right now some of these great products from P&G are on Ibotta giving you a double savings. Win, win!
[tweetthis twitter_handles="@SheSpeaksUp"]Spring cleaning is great but #StockUpSave @walmart puts money back in your pocket. That's better![/tweetthis]
Don't worry about missing out on the event. Walmart gots you covered. Check out the April Stock Up & Save Event on Facebook to learn more and get reminders throughout the month. Remember, stocking up on household essentials this spring means extra money in your pockets and no worries of running out of something when you need it most. It's peace of mind which we all need!
Do you bulk shop?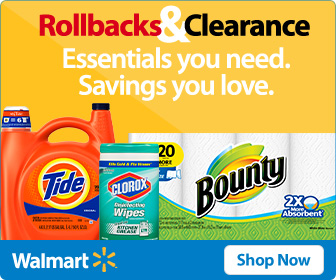 Disclosure: This is a sponsored post for Walmart/SheSpeaks. All thoughts and opinions are my own.