Disclosure: This shop has been compensated by Collective Bias, Inc. and its advertiser. All opinions are mine alone. #CampbellsShortcutMeals #CollectiveBias
Can you believe that back to school season is already here? Thank goodness for Walmart! With back to school in session, I wanted to share some time-saving tips that will help you start the new school year off right. You know, tips that will make your back to school schedule manageable and little less hectic. Yes, it's possible. REALLY!
Start laundry at night
Before going to bed throw in a load of laundry. Most washers nowadays offer a delay end setting. Set that so all you have to do is throw them in the dryer before starting your day. Later in the day put up the laundry and continue the cycle. This should keep mountains of laundry from taking over your house.
Whip out the crockpot
If your crockpot is hidden in storage, it's time to whip that baby out. The crockpot is going to be a true time saver for you when the back to school craziness hits. Being able to put a meal in the crockpot and have it ready for dinner is amazing and is a true life saver when after-school activities take over.
Meal Plan
This is one of the easiest things you can do to save time and actually a lot of money. To start, limit the number options. Choose different days for different kinds of meals (i.e. Tuesday baked potatoes with toppings, Wednesday pasta) or consecutive meals with the same main ingredient (day one chicken breasts day two chicken enchiladas). This will make meal planning so much easier.
Speaking of Tuesday baked potatoes with toppings idea starter, I have an easy and quick weeknight meal for you – Taco Tuesday Loaded Baked Potatoes!
Taco Tuesday Loaded Baked Potatoes makes a quick and easy weeknight meal for the back to school hustle and bustle. Ready and on the table in 30 minutes or a great make ahead meal for even easier weeknights!
Taco Tuesday Loaded Baked Potatoes Recipe
Taco Tuesday Loaded Baked Potatoes
A quick and easy weeknight meal for the back to school hustle and bustle. Ready and on the table in 30 minutes or a great make ahead meal for even easier weeknights!
Ingredients
4

medium-large russet potatoes washed

2 12.5

oz

can Swanson® Premium Chicken do not drain

1

packet taco seasoning

Pace® Picante Sauce

desired toppings shredded cheese

cilantro lettuce, diced tomatoes, jalapeno rings, sour cream, green onions, etc.
Instructions
Empty both cans of chicken (including juice) into a medium saucepan. Bring to a boil. Stir, breaking the chunks of chicken into shreds.

Add 1 packet of taco seasoning and stir well. Simmer uncovered for 10 minutes or until the potatoes are done.

While the chicken is cooking, wash and scrub the potatoes. Prick several times with a fork and place on a plate. Cook on full power, about 7 minutes per side. Check the middle of the potatoes to make sure they are soft. If still a little hard, microwave an additional minute. Repeat until soft.

Slice the tops of the potatoes lengthwise and fluff the insides with a fork. Then, ladle on the chicken and add any additional toppings desired.
Recipe Notes
After ladling on the chicken and adding cheese, put under the broiler for 30-45 seconds to melt cheese if desired. To make ahead, after cooking, allow chicken and potatoes to cool separately. Store in separate containers. Reheat until warmed throughout.
To get started with this recipe head to your local Walmart and shop for delicious Campbell Soup Company back to school products. Or hover over the photo to click through to Walmart.com and purchase them there!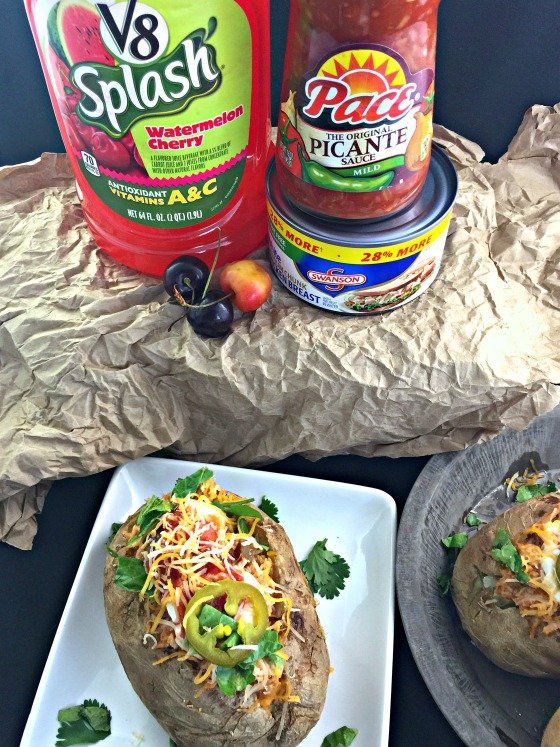 In my recipe, I opted to use Pace® Salsa as topping instead of my usual tomatoes. Its genuine southwest flavor kicked the taste up to 11. Not to mention no dicing or prepping is needed at all!
For the canned chicken, I used Swanson® Premium Chicken instead of cooking chicken myself. It's an absolute time saver having already cooked and ready to use chicken at hand. Plus it's heart healthy!
Click here to visit the Campbell's Shortcut Meals website and get back to school meal inspiration!
Set the timer on your coffee maker
Don't you have a coffee maker with a timer? If you don't you need to get one ASAP! Setting the timer on your coffee maker can be a true time saver. It's amazing how much time it can take to make coffee in the morning when you're zombie tired.
If you aren't a coffee fan I suggest trying one of my other morning go to drinks – V8+Energy® or V8 Splash®. V8 Splash® tastes great and provides nutrients while V8+Energy® provides natural energy from green tea (found in the juice aisle) – something all moms like me need.
Get everything ready the night before
Something I have always done, since being a kid, is get everything ready the night before. My kids get out their clothes, shoes, socks, and undies the night before. They even make sure their backpacks are laid out and ready to go. As the mom, I lay out my clothes and any important paperwork needed for the next day. It's way better than running around with your head cut off it the mornings.
Grocery shop online
One trick that I have found that really works is grocery shopping online. Grocery shopping online means I don't need to take all my kids to the store with me. I pull up, grab my groceries, and I can be on my way home. It's truly amazing how easy it is to hop on my phone, pick out the groceries I want, and just pay online. If you have the opportunity to grocery shop online, do it.
Get a routine going
I like to wake up early, before my kids. This helps me get a head start on the day and get more done before the kids wake up. I wake up around 6 AM, dry a load of laundry, and get a few things done. It helps to not be so overwhelmed at the end of the day. A routine really is a great way to save time in life, especially when the kids go back to school.
Put things in your calendar
Do you know what else saves time? Putting events in your calendar. I get so stressed when I forget about something, so it's nice to know I have it written down. When I wake up in the morning, I look at my calendar to see what is going on. This is one major reason I love my smartphone.
Saving time during the school year is important. Time is limited and you want to spend your time on what matters. The minuscule housework and errands don't deserve the best of you, your family does. If you can find shortcuts, then go you!
Also, don't forget to click here to visit the Campbell's Shortcut Meals website and get more back to school meal inspiration!