This shop has been compensated by Collective Bias, Inc. and its advertiser. Product was provided by the client for review; however, all opinions are mine alone. #WorldsSmartestToothbrush #CollectiveBias
Many tech-savvy males today are into the latest gaming technology and movies. This typically means buying them gifts is a no-brainer. All you have to do is buy their latest obsession in game, movie, or memorabilia form and you are golden. Yes, they will be completely satisfied with this gift but it won't wow them. They will totally expect it. If you want to knock the socks off their feet and actually surprise them try out some of these gift ideas:
For Jet-Setters: A Smart Toothbrush
Hover the image below to start shopping for the perfect gift now!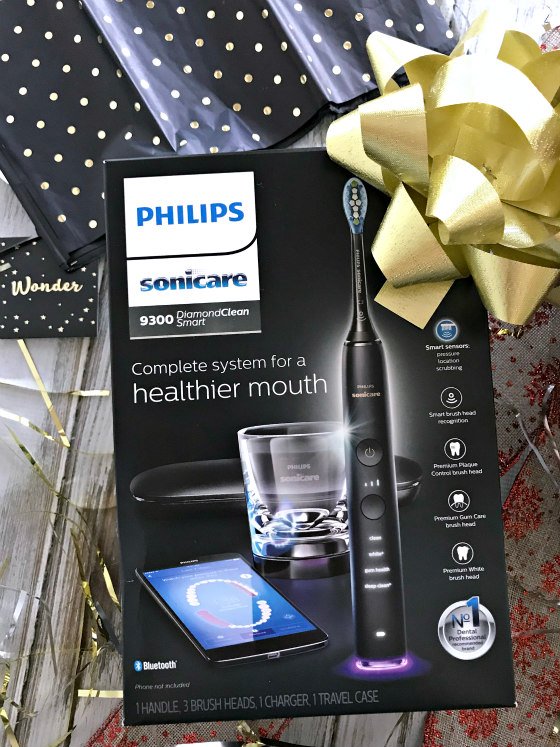 Most tech-savvy males probably already have a laptop with all of the latest accessories. Along with awesome headphones and a cell phone that does everything under the sun.
A great travel essential they might not already own is a high-tech electronic toothbrush like the Philips Sonicare DiamondClean Smart Electric Toothbrush I bought at Kohl's. It comes with a charging glass and a travel case making it perfect for on the go.
I gave this awesome toothbrush to my husband as an early Christmas gift. He's game-loving computer programmer that totally didn't expect a gift like this but totally loves it.
Gamers will love its personalized smart brushing feedback. Sensors and timers in your toothbrush will let you know if you are brushing too hard and make sure you brush your entire mouth. The three different brush heads are Bluetooth enabled and talk directly to the Sonicare App. Cool, huh?
Just like a video game, it has different modes and levels. The Sonicare DiamondClean toothbrush has four modes (clean, white, gum health, & deep clean) with three intensity levels. It makes gamers feel right at home while doing something that is extremely important for their health. My husband LOVES it!
The connected Sonicare App is your oral-health cheerleader that makes sure you brush correctly and pushes you to keep brushing. It is a great motivator and will help you get healthier gums in 2 weeks* (*vs a manual toothbrush).
There's always a way to make life better so remember to stop by Kohl's to buy the No 1 Dental Professional recommended brand, Sonicare!
For Cooking Enthusiasts: Intelligent Cooking Tools
For the man that loves cooking, smart cooking tools are cool way to amp up old school cooking techniques. There are now pans that can Bluetooth to smartphone apps to control temperatures, monitor cooking times, and even tell you when to flip a steak. Never burn food again!
For Pet Lovers: An Automatic Pet Feeder
Remembering to feed Fido may be difficult for some people to remember but with today's technology that's not an issue. There are pet feeders that can automatically dispense specified amounts food for cats or dogs on a schedule that you set from your phone. Never overfeed your pets again!
For Social Media Gurus: Snapchat Glasses
Most likely the technology buff in your life also loves social media. This means they know all of the ins and outs of older networks like Facebook, Twitter, Pinterest, and Instagram. What they may not have fully dived into yet is Snapchat. Luckily, there are now special glasses that can record short videos from your perspective and wirelessly transfer them to your Snapchat memories. It's a fun way to make and relive memories!
For Metrosexuals: A Rechargeable Razor
For some men, it is a sin to go a day without shaving that's where a USB rechargeable razor comes in handy. Tech-savvy males always have USB outlets available and these are small enough to fit in your pocket. This makes grooming anytime the need hits super easy!
If you are still searching for that wow gift, run into Kohl's and head to their home department for the Sonicare DiamondClean toothbrush. You really can't go wrong with something that will give you 100% confidence in your oral care – every time!!